(UPDATE): Click here to read "We Got Rid of Cable. Now What??" about what it's like being without cable after 2 years.
Not sure how to get rid of cable?
Well, getting rid of cable is like trying to break up with a bad boyfriend: You really don't want him anymore, and you swear you're going to dump him. But you can't quite find the cajones to follow through because you've been together for sooo long you almost can't imagine being without him. When you finally get the nerve to tell him you're leaving, he coaxes you back into his arms with promises. Suddenly, you're in the throws of a relationship again, scratching your head, "Wait– Weren't we supposed to break up?!"
Sound familiar?
If so, then you've been a victim of the "cable trap."
Join the club!
I was sick of cable, though. For years, friends and I bantered back and forth about saving money and cutting the cord, but it was more TALK than ACTION. But recently, though, I decided that I would do something about it once and for all, and I did:
I GOT RID OF CABLE!
It's been sort of an "experiment" for my family, to see if we could actually DO it (easier said, than done, right?). I thought for sure we'd be ready to rip our hair out after a month…….but……..
The verdict??
BEST.DECISION.EVER!
Here's our little story about how we got rid of cable and found some cable alternatives that work well for our family.
Let the Numbers Speak
In our old cable plan, we had a triple play bundle for our cable, internet (20 mbps), and phone at about $155/month. And that was WITH a discount… For this experiment, I canceled everything with Comcast, and signed up for a promotional deal with Verizon Fios with internet only for $55/month for the first year, and year 2 of the agreement will be around $85. Even at $85, it's still a bit cheaper than Comcast's 50 mbps rates. The picture below shows you how this year alone we will save about $930 this year from our canceling Comcast bundle!
I'm not going to lie…..when all you've known is bundles and hundreds of channels, it's a bit of SHOCK when suddenly you have to actively seek out what you're going to watch, instead of flipping incessantly through boat loads of channels you don't give a crap about. Now, watching TV is a purposeful event, which has actually been much more rewarding.
And the process of getting rid of cable is one that you need someone to walk you through, because it's a bit daunting knowing what to do and when.
So I've put together this handy little step-by-step for those of you brave enough to walk on the "wild side" with us trail blazers. LOL
It's time to end the "cable trap" and save money!
You ready??
(P.S. Wow…..CNN got word of this post and interviewed me for a segment about us "cord cutters." WATCH IT NOW!)
STEP 1: Drop the Bomb on Your Family
I really expected my family to look at me like I just sprouted a second head when I suggested we get rid of cable, which is their main source of entertainment (aside from the iPad), unfortunately. Surprisingly, hubby was on board, even though he's the worse TV abuser at night; our 3 kids, well, what say do they really have, anyhow?? None.
But if your family is clearly addicted to their favorite shows, telling them that they may be taken away altogether, or watched in some alternative method, you might expect to get some death looks! Don't say I didn't warn ya. 🙂 Be sure to do your research first to tell your family where they can watch some of their favorite shows (see Step 5).
STEP 2: Warn Your Cable Company They're Gettin' the Boot!
If you're like most people with cable, you've got your internet and cable TV bundled in a package, which is usually cheaper than getting them separately. (Honestly, the way they price their individual services at sky-high rates, but drop the price when you bundle, should be illegal! Just sayin'…..). In this step, you're going to feel out your cable company to see how much they really love you and want to keep you. You're going to try to get a phenomenal deal on your internet service only.  Call and give them a head's up that you're thinking of canceling your cable. Tell them that you've been a loyal customer for ________ years, and that realllllly want to keep their internet service. What can they offer you? Write down their offer, the date you called, and who you spoke with. If possible, get an extension so you can talk to that same person again if you call back. Don't make any changes to your services just yet, though. You're comparison shopping right now.
When I told Comcast I was thinking of canceling their service, they tried to offer me a triple play package with less TV channels for $122, down from the $155 I was paying. The prices they quoted me for internet only were no good. I don't think they were interested in keeping me as a customer. Shame on them. Buh-bye.
STEP 3: Cheat on Your Cable Company
Some forms of cheating are okay. Like rendezvousing with other cable companies. Competition helps you get a better deal. In my area, Verizon vs Comcast is the toss up between cable companies. Whoever the competition is in your area is who you're going to contact. My recommendation would be to start on their website. Many times you can find deals and discounts that are exclusively for online customers, sometimes $30 – $50 in credits each month!
So I stalked Verizon Fios' page. And I saw an awesome deal for internet only, at 50 mbps (which was faster than Comcast's 20 mbps we already had), for only $55. Because I was a new customer, I was able to snag this deal, in exchange that we agree to a 2-year commitment. Not cool on the agreement, but I don't ever plan on getting rid of my internet plan anytime soon, so yeah, we'll take the 2-year agreement deal.
STEP 4: Locate  the airwaves! They're FREE!!!
If you're a child of the 80's or earlier (raising my hand), then you remember the infamous "rabbit ears" that sat on top of our TVs, right? You were able to pick up your local programming for FREE, because the your local broadcasting channels transmitted the airwaves for free. All you needed was a way to catch them. Somewhere along the way, cable providers decided to come in and make you pay for all those channels that you used to get for free, and then threw in some other ones that you never even watched. Crazy, right?! (Really, who needs 250 channels??)
Instead of paying a cable company to provide them to you, locate your over-the-air stations, and broadcast them yourself with an antenna. Go to Antenna Web. It's a free site that allows you to enter your address to find out which broadcasting companies are nearby, and their distance. It also color-codes each broadcasting company/channel so that will know what type of antenna you should buy.
I entered my address and this is a screenshot of my results.
 According to Antenna Web, my house location has up to 62 channels from 27 over-the-air stations that could be received. (Aren't you curious to see how many I was able to get? Keep reading to find out…….)
Click on each station to find out more information. I clicked on FOX and found out that for this "YELLOW" stations 12 miles from my house, I would need a small multidirectional antenna. Good info to know…….Next stop, Amazon!
STEP 5: Buy a Streaming Device…….and a Mohu Leaf Antenna!
A what??….Okay, if you're like me and have been living under a rock, you might not know what these are. The Roku 4 Streaming Player
 (I have the Roku 3, though) is a streaming device that allows you to stream Hulu, Netflix, Amazon Prime, HBO GO, and a whole host of other programming, channels, and apps right to your television.
They are several models of the Roku and each one of them offer some upgrades from the previous model. Click here to read the see the full comparison.
They literally fits in the palm of your hand! If you want a cheaper version model, just get the Roku 3, which plugs into your TV and isn't wireless.  You've got instant TV viewing gratification! The Roku offers over 300 channels (which I think are more like apps, kinda), and a majority of them are free. Some of them require a paid subscription each month, for example, some movie channels or gaming channels. If you've got an xBox, you can use that to stream Netflix and such through your computer. But in my opinion, the Roku is far superior. With the Roku, you're getting a whole host of fun channels that you just don't get with an xBox.
And surely the Roku isn't the only little streamer out there (Amazon Fire is a good choice, as well, although I haven't used it.). But since this I have experience with, and it works phenomenally for my family, I'm going to be biased and tell you to buy the Roku
. 🙂
I was going through "live television" withdraws. Although I wasn't a big TV junkie, I had to adjust to TV watching all of our TV "on demand." After I had a chance to play around with the Roku and all its gazillion channels (over 300!), I fell in love with it, and think that it's a great one-time investment for both my TVs!
You may be wondering what the difference is between each Roku. We have the Roku 3 because it was the latest at the time, but if I were to buy it now, I would get either the easy-to-plug in Streaming Stick, the Roku 3, or the Roku 4. The Roku 4 has a "remote finder" feature for lost remotes (WOO HOO!) and I like the plug in ear phones that the Roku 3 and 4 offer.
The Roku streaming stick is actually a little less expensive (as shown above), and more convenient because it's wireless. We have one of these for our TV in the basement, which is wireless. Just plugs right into your TV. It doesn't have an ethernet, USB, and microSD card slot, super fast process, or remote with a headphone jack for private listening (like the Roku 3 and 4 have) but it's still a good alternative to the Roku 3 (and a good alternative to cable!).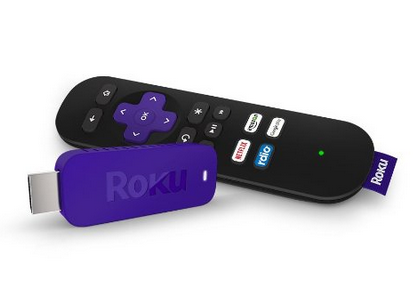 We have an Amazon Fire Stick on the TV in our bedroom, which works with Alexa voice command. Some people recommend jailbreaking it so that you have more viewing options.
You can watch this video tutorial for info on how to jailbreak the Amazon Fire Stick. I haven't tried it yet!
Antenna's today don't look like our old antennas. They're sleek and easy to conceal, and work great! I ordered the Mohu Leaf Ultimate Amplified Indoor HDTV Antenna
, which was $75 (although at times you'll find it slightly higher or slightly less). I like that it's paper-thin, has a flexible design, and simply hangs on the wall. Also, one side is BLACK and the other side WHITE so you can decide which color you want to be displayed on your wall. I've got the white side facing us 🙂
Watch this Mohu Leaf review YouTube  that I put together for you showing you the Mohu Leaf in action!
Other Antenna Options
A smaller antenna isn't the only option. If you've got big bucks to shell out, you can buy an antenna and pay someone to install it on top of your house. That's what a friend of mine (you know who you are!) did, at a tune of about $500, which is a bit pricey, in my opinion. But he's totally happy because A) he gets all the local channels to all 5 of his TVs, whereas you would need to buy a Leaf Antenna for each TV, B) the antenna will last about 20 years before needing to be replaced, and C) he will loses reception, whereas if you move the Leaf Antenna 2″ in a certain direction, you may lose a channel or two. So…..although pricey, this $500 installation can be a good if you have many TVs and don't mind shelling out the money for a professional installation. Just Google your local directory for "antenna installation."
Yep, we also added Google Chromecast to our repertoire of entertainment. For $35, Google makes it easier for people to ditch their cable and stream all their favorite stuff (Netflix, YouTube, etc) from their HDTV. Chromecast is a small USB dongle that you plug into the back of your TV and suddenly, it "casts" your Netflix movie and YouTube videos, for example, to your TV. Using your iPhone, Android, iPad, whatever electronics, you control the volume and everything (stop, play, rewind, etc). Meaning NO SEPARATE REMOTE. Man, talk about affordable! What are those cable companies gonna do, huh??
Watch this video and see how it works.
STEP 6: Subscribe to Hulu Plus, Netflix, and Amazon Prime
Once your Roku and Mohu Leaf Antenna arrive, now's the time to subscribe to Hulu Plus, Netflix, and Amazon Prime, if you haven't already subscribed to them. Their costs are fairly low, with Hulu Plus at $7.99 per month ($11.99 if you want the commercials-free version), Netflix at $7.99, and Amazon Prime at $99 for the year ($8.25 per month). Once you've confirmed your subscription to all 3, you've now got a wealth of viewing options at your fingertips, in addition to the hundreds of channels that Roku offers.
When you add up the costs of these subscriptions, it's still unbelievably cheaper than an expensive, limited cable package.
One thing to note, however, is that with Hulu Plus, there are some programs that are NOT accessible via streaming. I think it's due to licensing of some programs that can only be viewed via Hulu Plus while using your computer. That's a minor pain. But, no problem. You can just follow these instructions on how to connect your computer to your TV if you want to watch those programs on your big screen TV.
NOTE: It's not necessary to order all 3 of these services, but I think each of them offer something good, and the monthly subscription fees aren't too steep. There are TONS of viewing options! I have even upgraded my Hulu Plus to the commercials-free option, although I think they should totally make it commercials-free without the increase, but that's a whole 'nutha topic. Oh, and you can also upgrade your Hulu Plus to include Showtime!
HBO and SHO Streaming 
Finally! What took HBO so long?? HBO offers streaming over the internet without a cable package, called HBO NOW. Other premium channels offer it, as well. I've got Showtime for about $8.99 a month through my Amazon Prime account.
STEP 7: Consider Sling TV??
You now have live sports, guys! Sling TV offers ESPN!
Sling is great because you get to watch your favorite channels LIVE. There's no additional equipment you'd need to buy because it works right on your computer, phone, Amazon Fire TV, Roku player, XBox One, or Nexus Player, for $20 a month. And below is a sample of the channels you get, all LIVE. Freakin' amazing.
I recommend pre-paying for three months so you can get a free things like a Roku Streaming Stick. The Streaming Stick is about $4 on Amazon, so prepaying $60 for three months of Sling and getting the free Roku stick is like only paying $13 for the three months. Can't beat that!!
STEP 8: Switch Cable Companies
After you've gotten your Roku and antenna in the mail (or other streaming player and antenna), now you can actually cancel your cable TV and switch to another provider. As I mentioned earlier, when you're a new customer with another cable company, you can score some sweet deals to make it worth switching. So I switched my internet provider from Comcast to Verizon Fios to save money (see chart above). Again, if your original cable provider isn't willing to sweeten the pot in order to keep you as an "internet only" customer, definitely consider switching.Get your installation date confirmed.
NOTE: It's best to schedule your installation date just before your old cable company starts a new billing cycle. For example, if you're old Comcast cable's billing cycle ends on June 5, and a new billing cycle starts June 6, make sure that you schedule your installation with Verizon around June 3 or 4. I made the mistake of overlapping my old Comcast service with my new Verizon Fios internet only service and ended up having to pay for TWO cable/internet bills! It's all because of my own indecisiveness, really. But you won't make that mistake, will you? 😉
STEP 9: Cancel Your Old Cable Bundle
Now that you're new "internet only" service is turned on, you can now cancel your old services. Not sure if all companies operate this way, but they bill you a month in advance. So you may end up getting a credit from your old cable services. Score!
Make sure that you turn your old equipment in ASAP. Even if you cancel your services, sometimes they don't fully "cut you off" until all your boxes are turned in.
And can I just say that when I turned in all my Comcast boxes, I felt so……FREE! And liberated! I actually did it! I broke the "cable trap!"
STEP 10: Deposit Your Savings!
This is the GOOD part……Now's the time to calculate your savings…..after you've switched/lowered your cable/internet costs……you've signed up for Netflix, Hulu Plus and everything…..whatever your MONTHLY SAVINGS are per month, I challenge you to actually SAVE that amount.
Yes, people. Automatically withdraw that money every month from your checking account and put it into a savings account. Unless you do that, you're going to just eat that savings up with some other cost that you'll never be able to account for. So that's what I'll be doing–pretending that I'm still paying $155, and sock the savings into a separate account. Hopefully at the end of the year, I'll be able to have cold hard cash in my pocket that won't be in Comcast's pocket! 🙂
Final Results??
UPDATED: August 2017 – It's now been 4 years since we ditched cable and we've survived! I do have to say, though, that once those discounts for our high-speed internet ends, it usually ends up being more doing it this way. Cable companies bundle things in such a way that it can be more expensive with all these add-ons of Netflix and Hulu and this and that.
I wrote a follow-up post on my other blog you may want to read to see how I *ALMOST* got cable again, just because I couldn't find any additional deals for my high-speed internet.
We Got Rid of Cable. NOW WHAT??
A Few Last Things……
1. You will need fast internet speed. Streaming movies and other programming requires a really good internet speed. Roku recommends a broadband Internet connection with a speed of at least 1.5 Mbps (for example, such as mid-level DSL). You can connect Roku to a wireless network, or use Ethernet. A friend of mine had Comcast internet 20 mpbs and his Roku kept freezing up. He upgraded to Verizon's 50 mbps and had no problems. I haven't had any glitches, either, with the 50 mbps.
2. If you need phone service…..you may still end up needing a bundle with internet and phone from a provider. In our case, we had a phone connection in our old bundle, but never bought the phone to actually plug in. Oops :). We now have no phone connection and just use our cell phones. But with small children and a need to have something for emergencies, my next experiment will be to try out the Magic Jack Plus to see if it will be a good option for our family. At only $30 for a year of service, it's much cheaper than getting phone service with other companies.
3. There are free ways to watch your favorite programs/shows. Most networks have full episodes on their website. Go check out their site. I know that HGTV has full episodes! Hulu also has many free shows.  Hulu Plus just allows you to stream via your Roku, iPad, devices, etc., and has more episodes (or full seasons) of many shows, whereas the free Hulu.com may only have the last few episodes. If you love sports, FirstRow lets you stream live sports (but get Sling for ESPN!)
4. If you're dying without cable TV……….If worse comes to worse, you can always sign back up for cable. You tried it. That's all that matters! And Amazon has really great Return policies. You're only losing shipping costs if you decide to send back the Roku and/or antenna. But honestly, I doubt you'd ever these alternatives to cable!
So are you ready to break the cable trap?
If you enjoyed this article, consider subscribing today, so you don't miss the next post!