I am a member of the Collective Bias Social Fabric Community. This shop has been compensated as part of a social shopper insights study for Collective Bias. All opinions are mine, and always will be!
One the most important keys to success in life is making a good first impression. It's what people are going to remember–those first few minutes of meeting you, in any situation: a job interview, a first day of class, a meeting with a potential business partner, etc. Create a bad first impression, and it doesn't matter how much "winning personality" you show them the second time around–it won't change anyone's mind. Your first impression is your lasting impression! One thing that will instantly create a positive first impression is a beautiful, healthy, down-to-earth, genuine smile! 
Okay, so we all don't have perfectly straight teeth that look like our parents spent fortunes on braces (did you know that braces are upwards of $5,000?! YIKES!).
But, we all can have a healthy smile, with routine check-ups, brushing twice a day, flossing, and swishing away all the nasty germs.
Now, I have a confession: I hate going to the dentist! I've got the most sensitive teeth! Sorry, but raw nerve endings and metal don't mix! It's ironic–I can delivery babies without any pain meds……but I can barely sit through one session of uncomfortable teeth cleaning! HA!
But I go.
Every 6 months.
And so does my family! In fact, my (almost) 7 year old and I went just last week! (Thankfully, NO CAVITIES! WOO HOO!)

I tell ya…..my son is such a ham…. LOL

I am concerned about my children's teeth. I want them to have the best opportunities in life, and always put their best foot (and smiles!) forward so that they make great first impressions (and aren't the butts of anyone's "yellow teeth" jokes!). And especially at the tender grade-school age, when their baby teeth are falling out and adult teeth are growing in, it's even more important to take care of their little smiles, which can feel like everything is growing in awry!
It's always a struggle getting them to brush their teeth, especially doing it properly. Sometimes hubby and I brush for them, but we're always supporting them to brush on their own. Sometimes I even whisper to them, "You knooooow……if you have ugly, nasty, yellow teeth, no girls will LIKE YOU!" (I imagine they won't quite comprehend that until they're teenagers, but it can't help to drill it into their heads now, right??) LOL
But making it FUN for them is what motivates them to brush! 
After our dentist appointments last week, I went to Target to buy new Colgate Transformer character brushes for my younger boys (didn't have to buy any for my oldest, since the dentist gave us free samples–woo hoo!), and to pick up some Colgate Total Mouthwash. I like that it has 12-hour protection against germs, even after eating and drinking, and isn't going to burn my kids' mouthes, because there's no alcohol. (Go see more shopping pics over on my Google Plus page!)
There's something about mouthwash that a kid can't get enough of! The colors…..the minty taste…the gargling…..it's like a treat for them, but the rule is: you only get to use it if you brush your teeth (slick, I know….) 😉 Often times, they'll jump at the chance to brush!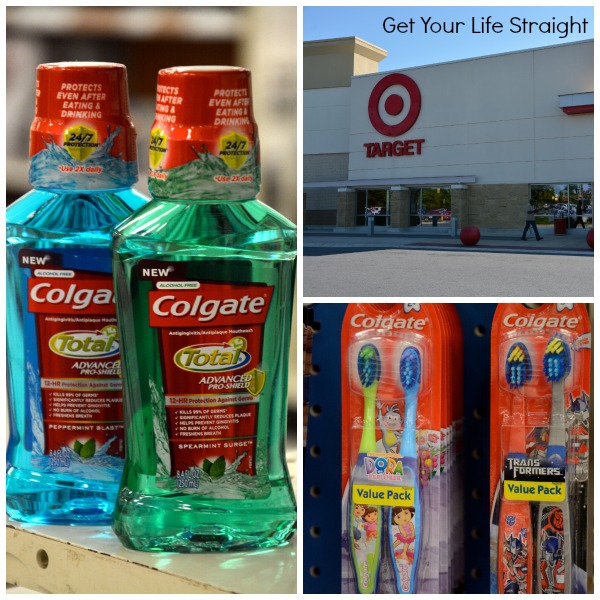 I also picked up some Colgate Total Whitening toothpaste for hubby, and me, and hubby was in DIRE NEED for a new toothbrush!
Because, seriously…. When your toothbrush starts to look like this……um……you're brushing about as efficiently as if you were using your pinky finger!! LOL. His teeth and smile are just as important, so I must remember hubby's needs, too!
So, to make it even more fun for my sons, I picked up two flavors: the Spearmint Surge, and the Peppermint Blast (Target didn't have any other flavors). I told them that we were going to have a TASTING CHALLENGE for Mommy's blog 🙂
They were super excited! Can ya tell? They kept shaking them, as if wanting them to explode. BOYS….
But first, they had to brush their teeth!
Then my oldest, who's a a superb reader, needed to check out the back label first. 🙂 He just had to point out to me the warning: "Keep out of the reach of children under 6" and pointed to his 3 year old brother, who stood there shaking the bottle and trying to open it. (By the way, I would have liked to see a child safety cap on the top so that my over-zealous kids, particularly my 3-year-old, can't get into the mouthwash when me or hubby aren't around, but there wasn't any. Better keep it out of reach, for sure!
After we brushed and flossed, then swished around the mouthwashes (as part of the Colgate Total Regiment), we were ready to crown a winner……
According to my boys, the unofficial winner is:…….GREEN!  The Spearmint Surge was less minty, and the kids liked its mild flavor! Little did they know that it did more than taste good: it was helping to kill all the yucky germs in their mouth, and reducing plaque and gingivitis. Triple SCORE!!
Next week my 3-year old is going for his very first dental check-up, and I'm hoping for good results! Hopefully, if they keep on with a Colgate Total Regiment of brushing, flossing, and using mouthwash, their teeth and smiles will remain healthy. I want the best for my kids, and when they're out there in the world, whether it's meeting new teachers, meeting new friends, or–GASP!–one day, meeting their future spouses, I can only hope that they continue to put their best smiles forward and make a good first impression.
Your Turn: So what do you guys think about first impressions? How important do YOU think a person's smile is to their first impression? Share your comment below! 🙂
For more information on how you can get a healthy smile, too, follow Colgate on Twitter (#TotalSmile) or follow on Facebook.