Several weeks ago I told my husband:
"I'm going to flip a property in 2018!"
He scoffed at me, as a grouchy husband usually does when a wife proclaims such a lofty statement when a wife has no real estate investing experience (other than the rental property we one which doesn't really generate any positive cash flow; in fact, it's been a complete loss over the years. That's a story for another day…).
After my proclimation, I didn't think much about real estate investing, flipping properties, or rental properites. The holidays were coming, I had Netflix shows on which to binge, and 2018 goals seemed very far way at that point.
Until I got a Facebook Instand Message from my friend, M, asking if I'd like to go in with him on a property.
M and I were high school classmates but didn't develop a friendship until well into our mid-30's, over numerous chit-chats about our rental properties, our love of woodworking, and annoying parenting woes.
His question ignited in me, along with an indescribable feeling that I've had lately, that I must do something different, something better, something bigger in 2018.
Since losing my job as a Project Manager three years ago (the 3-year anniversary is coming up on January 8th! You can read about that here on my Thrift Diving blog), I've been blogging full-time, creating my own day, basking in the flexible schedule that is up to me to decide each day.
And I absolutely love it and it was the best thing that could have ever happened to me.
But I've been questioning myself these past few weeks with the question:
"What's the next level??"
It felt like something bigger was coming…something that would allow me to expand my love of DIY and home improvement, yet allow me to grow personally and professionally.
Meeting Millionaires
Something has been festering in me since October, when I went to my second FinCon financial bloggers conference.
While there, I met a bunch of money-focused people–some of which were millionaires who looked like regular folks like you and me.
These were people with successful businesses, real estate investments, stock portofolios that could make Oprah do a double-take (just kidding).
I decided during that conference that I, too, want to become a millionaire.
You see, being a millionaire means having choices.
It's not that I am money-hungry. It's not that I'm superficial. It's not that I want a lavish lifestyle.
It's that I want to be comfortable.
I want to be fulfilled.
I want to be in a position to learn what I crave to learn.
I want to take yearly vacations with my family and not have to worry about the cost of hauling 5 people on a flight…or that we can't go out to eat because, Heaven forbid, we might go broke feeding 5 people at a hole-in-the-wall dive.
And when I take that vacation, I want to know that I don't have to worry about where my next meal is coming from or where my next deposit is coming from.
Being a millionaire affords you those conveniences.
Inspired By Morgan Freeman
I recently saw that surprisingly good movie on HBO NOW called Going in Style with Morgan Freeman, Michael Caine, and Alan Arkin who are three old penny-pinching-almost-losing-the-house guys whose pensions were cut off. They make the tough decide to rob a bank to get the equivalent of their money back and to create a better life for themselves with the time they have left.
Morgan Freeman finally decides he's "in" on the heist and makes a comment that struck a chord.
He says:
"I want to live better than I am. I want to see my family more than once a year. And from here on in, I want to have a piece of pie whenever the hell I want a piece of pie. You know what I mean?"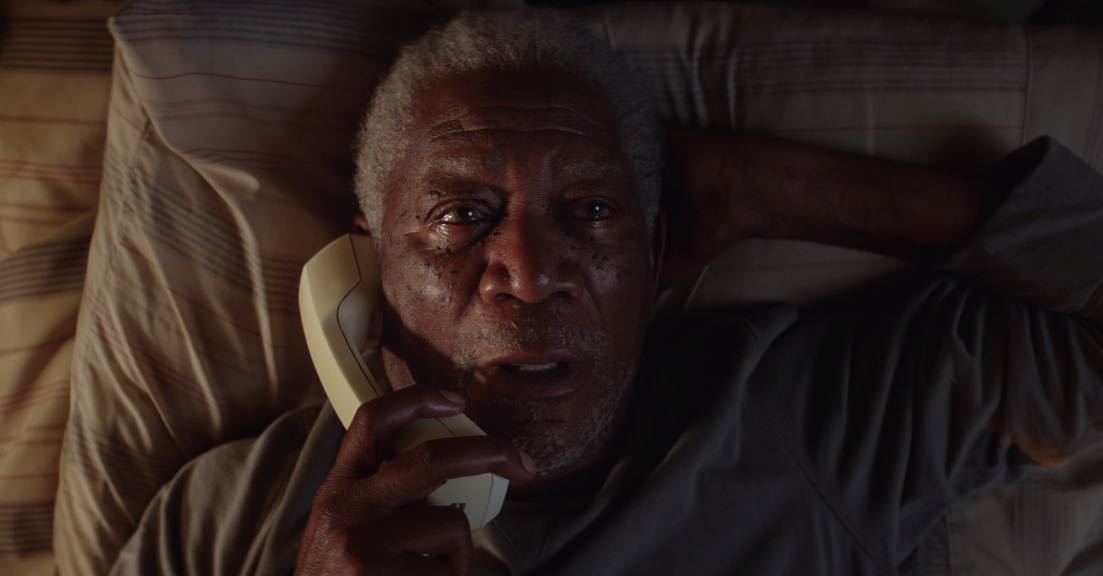 Yes, Mr. Freeman, I know exactly what you mean.
I'm not an 80-year-old man on a fixed income. But I am a 40-year-old woman who wants to have her pie and eat it, too.
While my blog has been comfortable helping to support my family for the past three years, I've made all kind of bad decisions with money because of the fear of never having enough. And I still have a fear that one day, all of this beautiful freedom I get to experience will one day be wiped out because perhaps a sponsor may decide to stop partnering with me…Or maybe there will be a Google or Pinterest update and suddenly my blog traffic will be wiped off the face of the blogosphere…Or maybe all my readers will wake up one day and suddenly hate me and all unsubscribe or post hate messages in the comments section. LOL
(Oh, come on, Serena, they wouldn't be that hard on you!).
But the fear is there.
The fear is that one day, my blog will no longer be able to support me and I'll feel forced to go find a "day job" again–something I vowed never to do. I never want to have to ask permission again to take off for a dentist appointment.
Never.
So as 2018 has been heading my way, I've been thinking a lot about what's next for me as an entrepreneur.
How do I continue to support the flexible lifestyle that I have so come to love and appreciate while doing something I love?
How do I plan for a future that seems like at any point could be severely altered if Google gets a mood swing or if a brand partner decides to go in a different direction?
Real estate investing.
That's how.
First Step: Get the Experience
In order for this to work, I first need to get the experience. I've been wanting to become an apprentice to a contractor for quite a while, but there wasn't an opportunity until now. Hopefully at the end of this month, I'll start shadowing and working with a licensed contractor to learn as much as I need to learn about home improvement, remodeling, and repairs.
I also may be taking some classes at a local community college for home improvement!
I'm so excited about this!
Second Step: Become a Licensed Contractor
After getting some experience, I'll study to take the licensing exam to become a licensed contractor. I have heard it's 55 questions and is comprised of some law and codes. Should be fun studying for that….
Third Step: Buy a Home to Flip (or Buy and Hold)
All the while, I'll be researching flipping and buying and holding real estate. The best resource I have found online and recommended by friends in the business is Bigger Pockets, an online real estate community and podcast. I plan to learn as much as I can about real estate investing! I'll also be grilling my friends for information who have already been there, doing that.
What About Thrift Diving and My YouTube Channel?
Oh, trust me, Thrift Diving and my YouTube channel aren't going anywhere!
If anything, the content that I post about will be more in line with the mission of my blog, which is to inspire women to decorate, improve, and maintain their home themselves. Most of which I'll be doing this year will directly be relevant to helping women create affordable homes without having to pay someone to do projects for them!
Sooo….that's kind of where my head has been in the past several weeks. It's been hard having the kids home for winter break because I just want to get back into the swing of my normal routine and doing videos and projects, but I've had a creative block since the holidays and since the kids are still hanging around.
More later!