Sometimes it seems like everyone's got their crap together but you, doesn't it? That's how I felt this week when I had the opportunity to attend a conference called the IAB Small Publishers Fly-In conference (if you live in the Washington, DC area–you must go! Google sponsored it and they fed us food and drink well).
The conference sounds like a fancy name, but they were publishers (like me)–bloggers, forum owners, website owners, etc.
The highlight was hearing Rick from Joy of Baking.com talk about the success he and his wife have using YouTube. Since I have a YouTube channel and I'm always looking for ways to improve my video, I soaked in every word like a sponge.
But the most rich part of the event was talking to attendees–attendees that have thousands upon thousands of visitors to their blog daily, monthly.
While I learned some important things, I walked away inspired, but also, a little frustrated. 
I've been doing this blog thing for technically ten years, seriously for over three years, and professionally, less than a year (I lost my day-job). Small bloggers are always comparing themselves to other website owners, looking for the the secret formula for how their websites blew up, while the little guys like me are still begging for pageviews from Mama.
As I sat there at dinner in the Google offices of the Washington, DC office (how awesome was that?!), across from Aaron, owner of Family Friend Poems site, a bit of jealousy surged through me when I told him about my 100,000 pageviews per month (on my main blog, Thrift Diving). When asked how many pageviews he receives, he told me 100,000…..per day.
My mind started reeling at the thousands of dollars Google Adsense must be sending him each month, and all he has to do is put up a few poems that are totally user-generated (great site, by the way!). Yet, here I am painstakingly doing DIY (do-it-yourself) projects that often take a soooo much time, not just to complete but to post.  I'm passionate about creating, but in the arena of blogging, it's not such a smart idea when you think about it, but that's another topic…
I left there with several ways ideas running through my head to move the needle on my DIY blog.
But I also left there with a sense of frustration and a sense of overwhelming.
Where do I start first? 
Do I optimize old posts….?? Update my YouTube videos…?? Redesign my site…?? Come up with a social media posting schedule…?? All of these things are important. And it didn't seem "fair' that these other Big Dogs were doing it so magically and I was still "small potatoes" after so many years.
My head was spinning.
Then It Happened
…that "aha" moment that made me just stop. It was like a lightbulb moment.
I realized with certainty at that very moment: this is what I am supposed to be doing.
I am supposed to be a blogger. I am supposed to be a business owner. Being in this profession is my life's purpose: to create, to inspire, to teach.
And no matter where I am in that process of fulfilling that life's purpose, I'm exactly where I need to be, so why should I feel like I'm "small potatoes" and not as far ahead as someone else? What's the rush??
It will all unfold at precisely when it's supposed to, as long as I am chipping away at it, continuously learning and improving.
In fact, it's okay to be where you are, as long as you are where you're meant to be. 
Whoa….
Where did that come from?? That was a huge understanding–a game-changer, my friends. Suddenly, when I realized that, it wasn't about questioning, "Why are they further than me?" but "What can I do to take myself further?"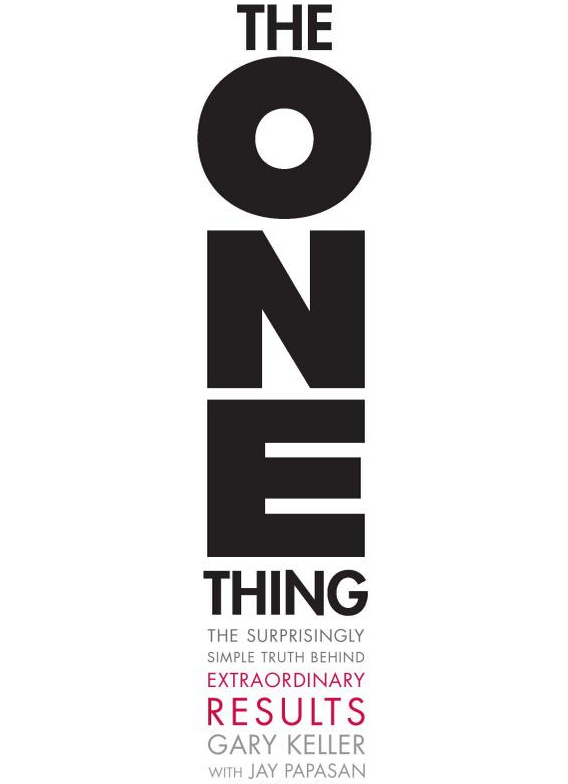 There's one book that I always call upon in these situations when I do feel overwhelmed. It's called The One Thing by Gary Keller. The idea is that you focus on the one thing that can bring you extraordinary results. It's a way of focusing and prioritizing how to spend your time and energy so you're not flopping around doing 10 things when really there is only 1 thing that is most important and impactful. He prompts you to ask yourself:
"What's the one thing I can do, such that by doing it, everything else is easier or unnecessary?"
Once you figure out what your one thing is, then you time block about 4 hours a day to work on that one thing. For example, if I want to grow my Facebook page, I should ask myself, "What's the one thing I need to do to grow my Facebook page, such that by doing that, everything else would be easier or unnecessary?"
I've learned that short video clips of my projects work extremely well in growing my Facebook page (like this video I posted, which had a reach of 1.7 million people and over 600,000 views!). It brought in a ton of new Facebook likes and email subscribers, too. Nothing else I could do on Facebook has such extraordinary results.
But the one thing works in personal life, too–weight loss, your relationships–everything. It's just a matter of focusing on that ONE THING that is going to get you to the next level in where you want to be. Then, you can stop worrying about how you stack up to everyone else. You'll just focus on your own one thing and feel less frustrated.
Stop Comparing Yourself to Others
What's really interesting is to compare yourself to yourself. How often do we do that? Because if we did, we'd see that we've actually moved the needle quite a bit.
In fact, when I look at my blog pageviews from a year ago (via Google Analytics), I see that they've grown by 203.94%! Holy moly!!! Without realizing it, my one thing to make that happen was sharing my content more often on Pinterest and other social media. This is amazing!
What if I had walked into that conference this week and announced to my fellow conference attendees, "Hello, my name is Serena, and I have grown my pageviews by 203%!" I'm sure I'd walk away feeling pretty damn good versus like a flunky blogger, huh? 😉
The same goes for you.
Try comparing yourself to yourself: apples to apples. See where you've made improvements from last month, the last 6 months, the last year, and then reward yourself instead of beating yourself down, like I was doing this week.
You might just start thinking that you're one bad-ass that deserves some recognition for your great efforts.
I know I'm feeling pretty accomplished right now ;).