You knew this post was coming, right? After that lengthy post that I did about how to get rid of cable to save money…..
It only makes sense that we now evaluate cheap wireless plans and why you may want to consider switching cell phone plans to save money and t0 stay more connected to your friends and family.
So I remember back in 'da day when my very first archaic cell phone plan gave me 500 "anytime" minutes for $50 a month. That's all ya got. I though that was a sweet deal!
How naive right?!
There were no "smart phones." Just "dumb phones" that would charge us 30 cents per minute beyond the 500 "anytime" minutes if we ever got a little loquacious one particular month. LOL.
And you were bound by contracts that made you sign your life away if you ever got an inkling to–GASP!–switch services before your contract was up.
In some ways, cell phone plans have come a long way to accommodate our lifestyles (e.g unlimited texts, unlimited data with the use of "smart phones").
But they can be expensive (for example, $100 a month), and if you've got, say, 3 members in your household, paying upwards of $300 or more for unlimited "everything" just isn't financially feasible.
Many of them still require outdated contracts, too!
"Anytime" Does
NOT

Mean "Unlimited"

It's expensive when you go over your "anytime" minutes. You know…..those minutes that start ticking away WHEN YOU USE THEM MOST, from 7 a.m. to 7 p.m…..Yeah, those.

What ends up happening, in my case, is that if I notice myself getting close to using all my minutes, I have to cut short my conversations.

Which means, I can't stay connected to my friends and family.

Sorry, that's not good enough.

I don't feel I should have to stop talking to my loved ones just because I've come to the end of my cell phone "anytime" minutes.

So let's see if we can find a cheap mobile plan that allows you to talk, text, and surf (the web) when you want, while keeping the bill affordable, without a contract.

Think we can do it?
The Unlimited, No Contract Plan
So for these next few months, I am going to test drive the Walmart Family Mobile Plan (#FamilyMobileSaves). Thanks to Collective Bias for providing me the opportunity, along with a T-Mobile MyTouch, for this test drive. I can't wait to see how the Family Mobile plan allows me to possibly save money and to stay more connected to my friends and family, without the "fear" of a surprise bill at the end of a billing cycle because I talked too much!
I went to Walmart a few days about to get the MyTouch activated (which only took about 10 minutes; all they needed was my driver's license–super easy! You can see more pics of my trip in my Google+ album).
I was a little skeptical, I have to admit.
Unlimited text, talk, and data for only $40?
Did anyone else ever hear about this plan?!
I couldn't help but whister to the sales girl, "So…what's the catch?" as if she could tell me the secret and I wouldn't share it with anybody. LOL
She told me there's no secret; just that after 1G of data usage, the data would slow down a bit, and that you'd want to purchase an Extras Pack for $10 if you want more data than the 1G offered. Not knowing how much data I even use, I skipped the Extra Pack for now and will keep that little "good to know" tip in the back of my mind.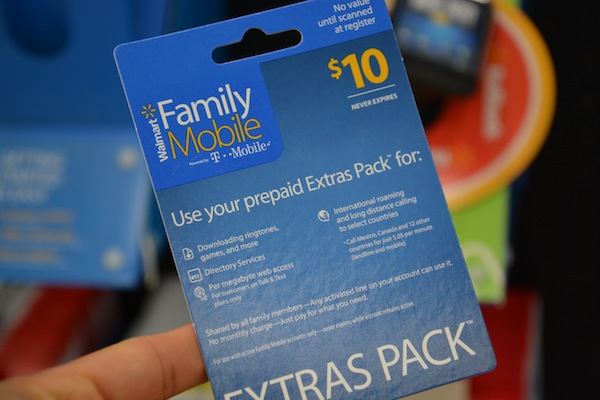 I bought the $25 Starter Kit (required for the initiative activation; the $25 goes towards the first month's $40 bill, which is nice), and I've got the phone activated and ready. I like that it will be easy to manage my account via their online account management, too.
So over these next couple months, I am going to try out the Family Mobile Plan and fill you on on whether it's saving me money and keeping me more connected to family (and eliminating the fear of opening my cell phone bill!).
Then I'll be reporting back to you!
So….can you save money with the Walmart Family Mobile plan?
Should you consider switching to a cheaper mobile plan?
This experiment is going to be sooooo good….
Let the games begin.
Now……answer me this: Do any of you use an unlimited, no contract phone? Does it save you money, and keep you connected to your family?