It's been a while since I have written a blog post. This blog, I think, will become the journal that I so miss, where I used to track my progress at things that mattered to me (goals, wishes, dreams, etc.).
It wasn't about monetization…it wasn't about SEO…it was just about me and what is going on in my life. I miss that part of blogging. Once I learned the lesson that the less you write and dilute your content, the better it does in Google search. But that left me feeling unfulfilled when I wanted to just write just to write but couldn't because it could potentially pull down the authority of my site.
So I guess we can just say I'm thankful for this little 'ole blog. So let's dig into what I've been up to!
My Latest Video
The latest project that I posted to my YouTube channel was this fun little thrifted bucket for the trunk of my car. I haven't put out anything new in the last couple of weeks because I have been so busy working on my basement makeover! This is what it looked like before:
BEFORE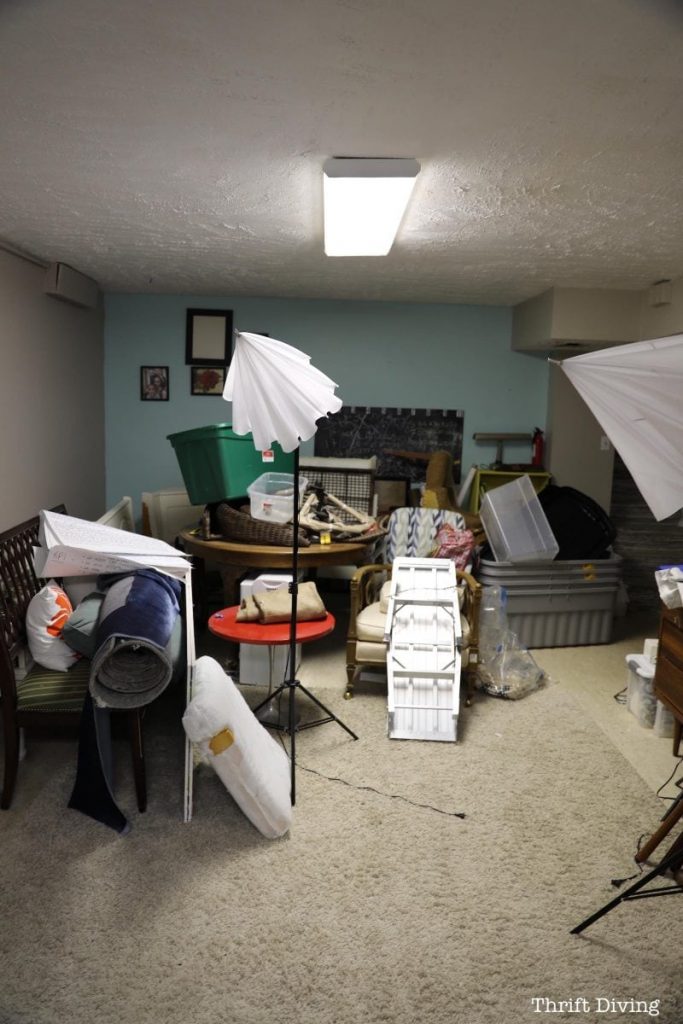 This doesn't feel like a basement anymore; it feels more like my apartment! It's cozy, inviting, and it feels clean. With all the junk cleared away, I can move freely in this space. I'm still not happy about the lighting, but with time, I'll get recessed lighting for the basement to make it feel more modern and updated.
AFTER!
I struggled with this rug, though. This isn't my normal style of rug, but something about its colors and vibe drew me in. It ended up fitting this space very well! I got it for $299 at Home Goods. It's by Nicole Miller. I tend to like her style of bedding and rugs!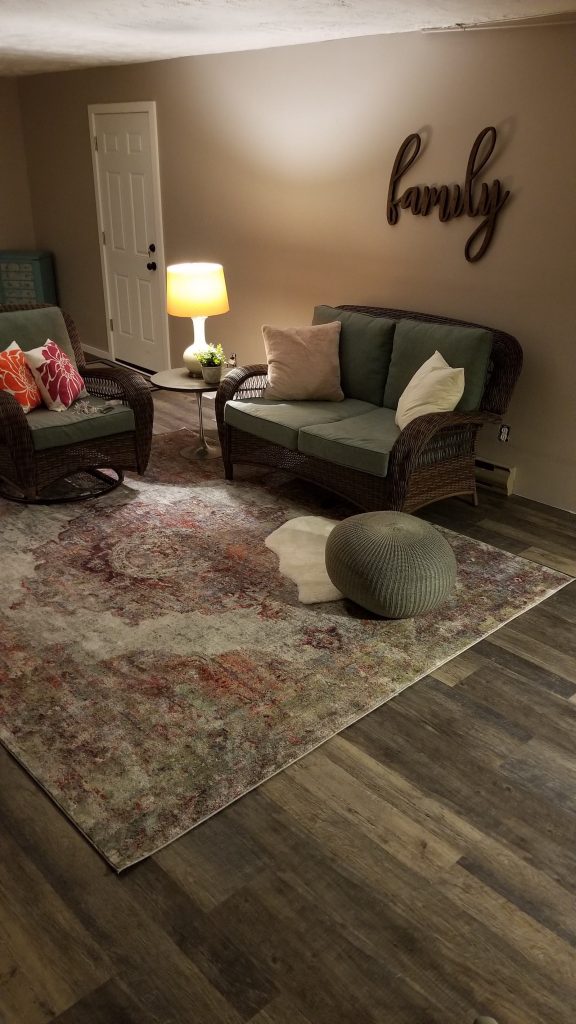 I completed this challenge as part of a 30-Day Room Makeover challenge that I do on my blog, Thrift Diving. About 420 people signed up, but usually, only a quarter of those who sign up will move forward. And out of the ones that continued, we all made such great progress! It was very exciting to see people's spaces come together.
Money Stuff
Financially, last year was amazing for me. I made way more money than I had expected and had a great time paying off debts that I had been carrying for a long time. Next up–paying off that lingering student loan from 15 years ago! Ugh….
Family
Well, the kids are getting older–ages 12, 9, and 7. My oldest still adores books, my middle son adores video games and cries when he doesn't get them, and my youngest is obsessed with basketball. That boy is going places! Hubby is doing well, too.
Health
I'm happy to say that surgery for my achalasia has greatly improved my symptoms! I have been able to eat for the past 7 months, and my weight clearly reflects that. 😉 I'm thankful for the surgeon who did a great job on me! I can only hope that I'll have years of success with this surgery.
Knitting
I have become obsessed with knitting over the past 3-4 months! It's the thing I like to do away from my blogging and YouTubing. It's not about the outcome but more so the process. It's calming and relaxing to knit and purl. 🙂
Here is a sweater I am working on right now. I've also got a very intricate pair of socks going on, which I am beginning to regret. LOL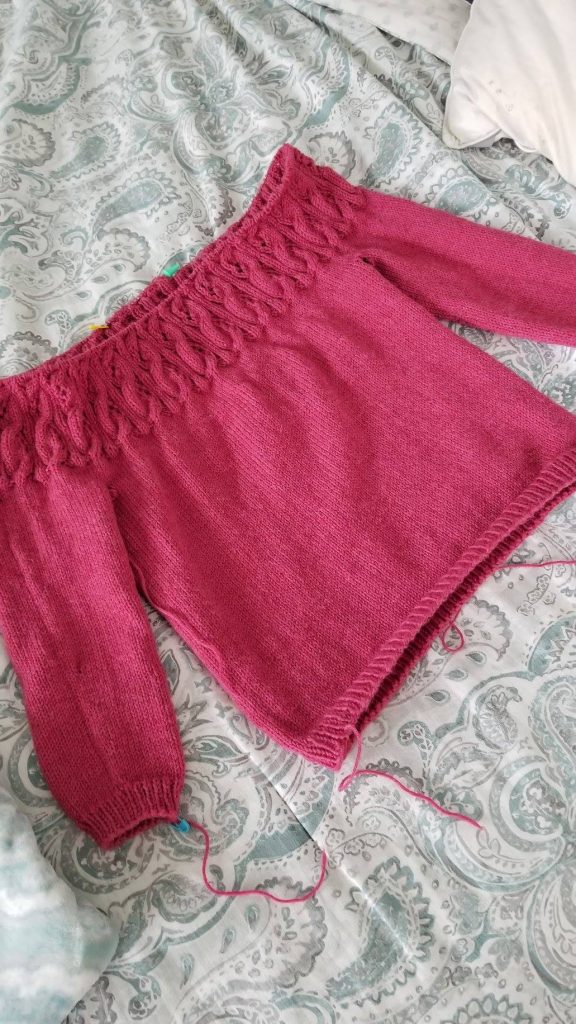 Carpentry Class
Yep, I am in a carpentry program at my local community college. The amazing thing as the new semester starts and I learn about rafters and roofs, is that I can frame walls now! I understand the math of it, the placement of the studs, where the seams have to go, how to nail in a 16d (aka "16 penny nail"), and how to reinforce it. I've learned so much and it's exciting to thinking about how much more I have to learn!
This is what we've built so far in class. The rafters are next!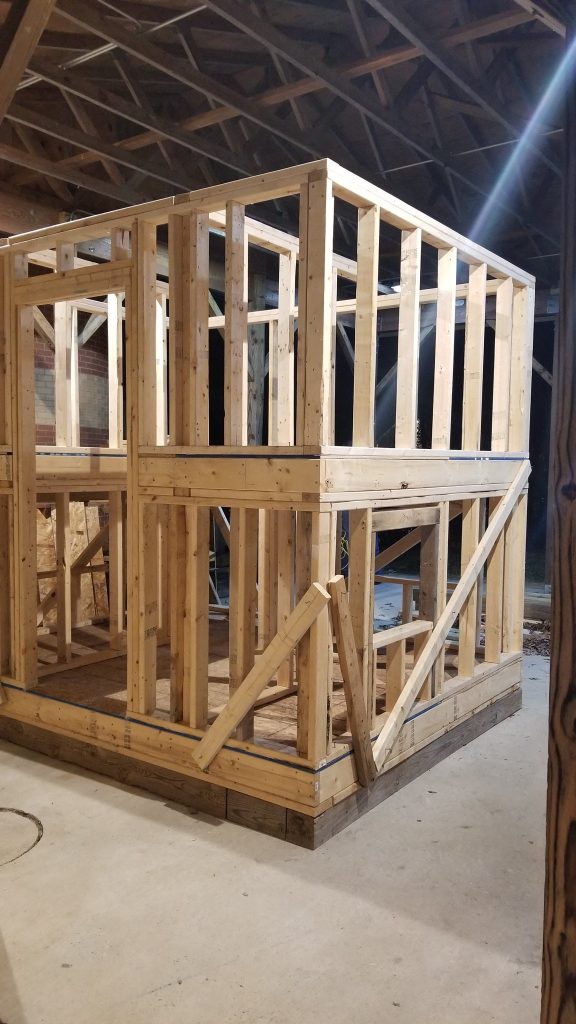 Well, that's all that's been going on with me! More soon!
Serena